The drag-duo DJ-production team known as Jawbreakers return to the dancefloor this month with "This is Dirty," the second single from their soon-to-be-released 'Just A Taste' EP.    
The song is a heavy camp club track, which is a bit more dance floor oriented than their previous release "Boyfriend (ft. Amunda). Which is a bit more poppy than this new base laden release of remixes of This Is Dirty, that references The Cock Destroyers, two British porn stars who exploded on Twitter after a viral clip emerged of the two ladies proclaiming, "Do you know what we are? Cock destroyers, Cock f—ing destroyers," among other quotes from influencer and pop culture arenas.  
"Sophie Anderson and Rebecca More of The Cock Destroyers were a huge part of queer pop culture when we were coming of age," explains Jawbreakers' Sabrina Babyslut.  
 "We were obsessed with their strong message of sex positivity and support of sex workers." 
Jawbreakers met the now-split-up Cock Destroyers in 2019 at Amsterdam's Milkshake Festival.  The meeting inspired them to introduce the infamous porn duo to the next generation of queer clubbers with a fanciful song that contained an underlying kink theme but was suitable for all to enjoy. "We want everyone to be able to dance and party to our music!" Jawbreakers' Kali Forni-Kate exclaims. Jawbreaker's "This is Dirty" is being distributed through Extrovert Music, a division of Vicious Recordings, and is available now on Spotify.  Its music video is available on YouTube.  The Just A Taste EP will be available on Apple Music and Spotify on April 1.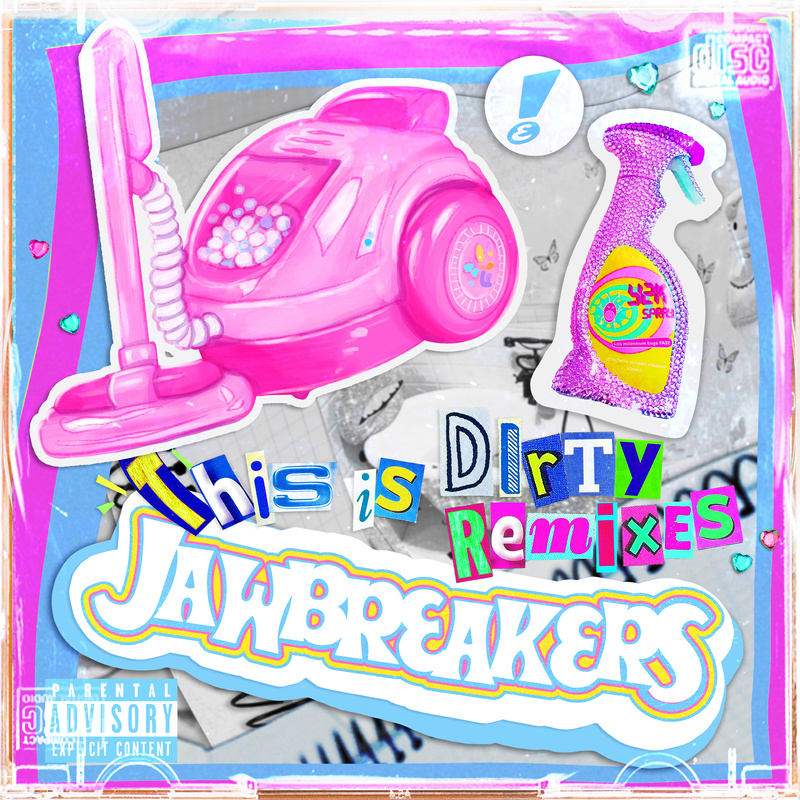 "This is Dirty" isn't just for the dancefloor, it's for all floors!" continues Kali Forni-Kate from her Melbourne home. "It can be listened to on loop while on hands and knees scrubbing the kitchen floor," she says. The song follows the Jawbreakers previous hit single, "Boyfriend;" a track that climbed to #1 on the iTunes Dance chart in January 2022.
In the "This is Dirty" lyric video, Kali and Sabrina are seen in sexy maid uniforms, leaning into the song's playful double meaning. "We designed and made those outfits," Sabrina says. "Other than the fact that it was 90 degrees on the day we filmed the video, and the studio we were filming in had no air conditioning and Kali and I were in full drag, we had a blast!"
Known for his recent work with artists G Flip and MAY-A, Charles Buxton-Leslie produced the "This is Dirty" lyric video. Also, returning for the new video is the washing machine from the "Boyfriend" video. This time it is covered in colorful stickers.
Along with the radio edit, Vicious Recordings is releasing several new remixes of "This is Dirty" including the James Alexandr piano house remix, John Course's minimal and dark cut and two tracks by LA based producer TWONSKi: a driving 'space disco' version and an 'acid filth' remix.
Kali and Sabrina first met in 2016, performing in a Britney Spears tribute show in Melbourne.  They immediately clicked as both came from similar middle-class, nuclear family backgrounds, discovered drag via their passions for musical theatre, and began their individual adventures into the art form after high school.   When they learned of their shared interest in music production, they decided to join forces as a DJ duo.    
They bought a mixer and six months later they were in business as Jawbreakers.
The duo has already headlined several international festivals including Sydney Gay & Lesbian Mardi Gras and Milkshake Festival in Netherlands. Their next big run of shows will be touring nationally with Groovin the Moo.
"We have been keeping an eye on Jawbreakers for several years," says Damien Platt of Extrovert Music, a division of Vicious Recordings, the label that discovered Avicii when he was a teenager, and released his first ten records. "When Kali and Sabrina presented us with demos of the EP, we were instantly fans of the music. It's fun, its camp and its quality music."
Jawbreakers is not Extrovert Music's first foray into gay dancefloor music. Label co-founder Andy Van, of the band Madison Avenue, had a #1 dance anthem with "Don't Call Me Baby". More recently, Sgt Slick's recut of "Gimme! Gimme! Gimme!" went gold and has become a major queer anthem. "Extrovert Music is focusing on dance pop/disco/commercial/cross over releases," Platt continues. "A majority of our new signings and existing roster who identify as LGBTQIA+ are producing this sound."
Jawbreakers' "Just A Taste" EP is being distributed through Extrovert Music, a division of Vicious Recordings, and will be available on Apple Music and Spotify on April 1. Jawbreaker's "This is Dirty" is available now on Spotify and its music video is available onYouTube. Follow on Instagram @ JawbreakersDJ
3.5/5 Stars.