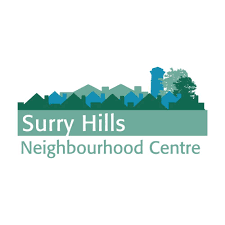 Level 1, 405 Crown st Surry Hills, NSW, Australia 2010
---
We are here to build a strong and inclusive community in Surry Hills. We are a dedicated team who have been working with the local community of Surry Hills since 1978 to promote social justice, diversity and inclusion. SHNC provides a space for everyone whether you wish to connect to your community, access support, learn something new, or have the opportunity to contribute back.
Extensive activities, groups and services are on offer, they include but are not limited to:
WOMEN'S SERVICES
The Surry Hills Neighbourhood Centre works with other organisations, including Domestic Violence Service Management, to provide services and programs that support women's wellbeing.
One such program is Moving Out Moving On (MOMO), which exists to support women, with or without children, who have experienced (or are currently experiencing) domestic/family violence and are homeless or at risk of becoming so.
The MOMO program provides the following support:
In navigating different areas and housing options, including long-term housing
With safety planning
Information and referrals around family law and AVOs
Wrap-around casework
If these issues concern you, drop into the SHNC and speak to a MOMO caseworker on Tuesdays from 9.30am to 4.30pm. Otherwise, contact MOMO directly to arrange another time and place to meet – phone 02 9251 2405 and selection option one.
For more information, visit the Domestic Violence Service Management website www.dvnswsm.org.au
SUPPORT GROUPS
A number of support groups are held at our centres, which anyone is welcome to attend. These groups provide safe and supportive environments for you (or your loved ones) to commence or continue on a journey to recovery. Meeting times are listed below – click on the links for more info.
Saturdays 6-9pm, Enid Cook Room
Tuesdays 7.15-8.45pm, Meeting Room
Saturdays 6-9pm, Enid Cook Room
If you have any questions or need more information about the services listed below, we are happy to help either online, in person or over the phone. There are also a number of useful printed brochures at our centre. You are welcome to pop in at any time from 10am to 4pm, Monday to Friday.
Aged care services – including help with shopping, paying bills, transport, respite and nursing homes
Children's services – for children aged zero to 12 years
Health services – including mental health
Services for people from Culturally and Linguistically Diverse (CALD) backgrounds
Services for young people living with disabilities
RENTAL ACCOMODATION
The Newton Neighbourhood Centre compiles a weekly list of rental accommodation ($250/week or less) within the Inner City and Inner West. Access it here [insert link – current page not found].
LEGAL ADVICE FOR EMPLOYMENT AND DISCRIMINATION MATTERS
Are you not being paid correctly? Are you (or is someone you know) being bullied or discriminated against at work? Redfern Legal Centre runs a free and confidential legal advice service every Tuesday night. Call them on 02 9698 7277 to find out more.
FREE TAX HELP
Free tax help is available to low-income earners from early July until the end of October, through the Australian Taxation Office Help Program.
You might be eligible for Tax Help if your income is $60,000 or less for the income year, and if you did not:
Work as a contractor – for example a contract cleaner or taxi driver
Run a business – including as a sole trader
Sell shares or invest in property
Own a rental property
Have capital gains tax (CGT)
Receive royalties
Receive distributions from a trust – other than a managed fund
Receive foreign income – other than a foreign pension or annuity
For more information visit the ATO website https://www.ato.gov.au/Individuals/Lodging-your-tax-return/Tax-Help-program/
Visit the official website to find out more about all the activities, events and groups the SHNC host or arrange.