Summer Camp Festival: Melbourne
December 2 @ 2:00 pm

-

11:00 pm

AEDT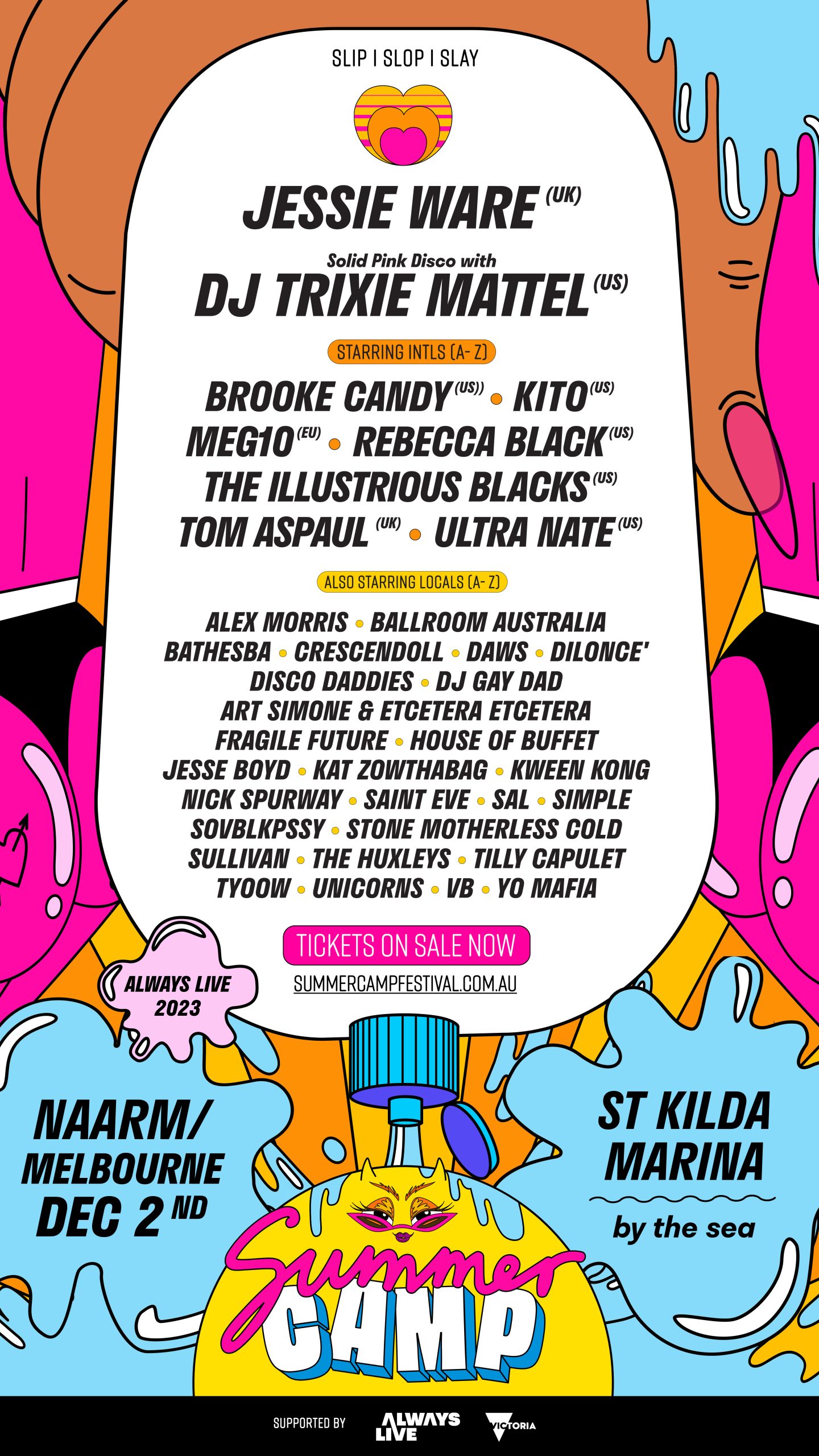 Off the back of an epic launch in 2022, Summer Camp Festival, an all-inclusive music & arts festival, is returning to Naarm/Melbourne (presented by ALWAYS LIVE) on Saturday 2 December and Eora/Sydney on Sunday 3 December with an absolutely stacked line up of musicians, DJ's and performance artists from Australia & around the world.
The lineup is playful and fun in true Summer Camp style – from nostalgic throwbacks, international pop stars, DJing drag queens & techno rave caves – bringing everyone together to dance no matter your age, gender, or star sign.
Joining previously announced UK disco queen Jessie Ware and drag superstar DJ Trixie Mattel for an all-inclusive event from day to night are international artists; underground American rapper and songwriter Brooke Candy, producer and DJ Kito, viral pop sensation Rebecca Black, Berlin club DJ Meg10, Afrofuturistic NYC DJ duo The Illustrious Blacks, British singer-songwriter Tom Aspaul, the iconic Belinda Carlisle (Sydney only), '90s dance diva Ultra Nate (Melbourne only) + 100 more local performers across three stages in each city.
On site the Summer Camp Sports Arena will host international pop stars and party tunes for the true sport that unites us all – dance! The BEAT stage will bring together some of the finest sound selectors from house, disco, techno and anthems for eight hours of power. In Sydney, Summer Camp cuties can pash on in "Club Love", the cheesiest singalong & ultimate party inside an inflatable pink camouflage church, while in Melbourne, honeys can get down and dirty inside a Rave Cave housing the best electronic music coming out of AU/NZ.
Melbourne's St Kilda Marina will become the home of Summer Camp "By The Sea" in 2023 on December 2 taking over indoor, outdoor, waterside spaces plus the carpark & rave cave. The Summer Camp Melbourne leg is proudly supported by ALWAYS LIVE, a 17-day state-wide celebration of contemporary live music supported by the Victoria Government through Visit Victoria.
Summer Camp Sydney is taking over Wentworth Park Sports Centre in Ultimo after the loss of Centennial Park due to flooding in 2022. This complex has a sports field, carpark and clubhouse and soon to be an array of queens and colour on December 3.
 Lock in your tickets now so you don't miss out! Available HERE
Saturday, December 2
Summer Camp Naarm/ Melbourne
St Kilda Marina, St Kilda
2pm – 11pm
Summer Camp Melbourne is part of ALWAYS LIVE, a 17-day state-wide celebration of contemporary live music supported by the Victoria Government through Visit Victoria. Memorable Music Moments are made each year with ALWAYS LIVE, only in Victoria, November 24 – December 10, 2023
MELBOURNE
JESSIE WARE (UK)
TRIXIE MATTEL (USA)
 STARRING INTLS (A- Z)
BROOKE CANDY (USA)
KITO (US)
MEG10 (EU)
REBECCA BLACK (USA)
THE ILLUSTRIOUS BLACKS (USA)
TOM ASPAUL (LIVE)
ULTRA NATE (USA)
(ALSO STARRING A – Z)
ALEX MORRIS
BALLROOM AUSTRALIA
BATHESBA
CRESCENDOLL
DAWS
DILONCE'
DISCO DADDIES
DJ GAY DAD
ECTERERA ECTERREA X ART SIMONE
FRAGILE FUTURE
HOUSE OF BUFFET
JESSE BOYD
KAT ZOWTHABAG
KWEEN KONG
MZ RISK
NICK SPURWAY
SAINT EVE
SAL
SIMPLE
SOVBLKPSSY
STONE MOTHERLESS COLD
SULLIVAN
THE HUXLEYS
TILLY CAPULET
TYOOW
VB
UNICORNS
YO MAFIA